Does your company need a
professional Video Conferencing Integration Service?
Stay in the loop of all major conversations and decisions with our seamless Video Conferencing Integration Software to leverage your professional services to the next level.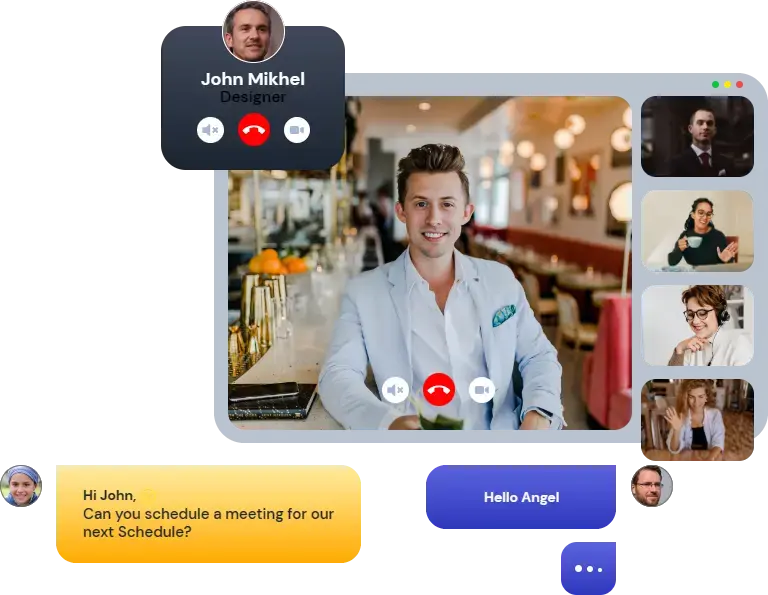 Our Expertise
Smooth Integrated Video Conferencing To Existing Systems Is Possible Now
Use our Technologically upgraded systems that provide easily programmable solutions, bringing forth interactive modes of communication to be used in all devices with remote access and easy control for the entire team. Leverage your performance with optimized visual and sound features.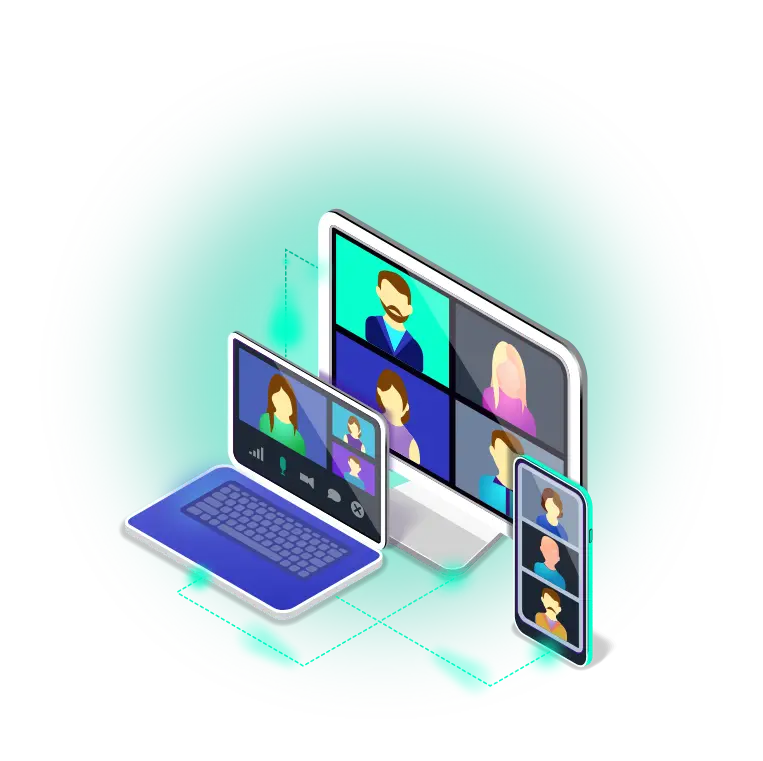 How Evalogical
Builds Native Platforms for you?
Group Conference
Turn your rooms from small to large meeting sessions in a matter of few clicks, in an affordable and custom made manner.
1 To 1 Conferencing
Host Personalized Video Conferences and enjoy a hitch-free video collaboration with your team members across the globe.
Interactive Broadcasting
Upscale your marketing efforts in an optimized line of strategies with our platform to gain the desired results quickly.
Screen Sharing
Embrace convenience at its best with our feature-enriched screen facilities, easy recording, and meeting retrieval cycles.
Real-Time Messaging
Don't lose track of your conversations and projects now, as we have instant real-time messaging software to help connect in a click.
High Resolution Quality
Love perfect images, and videos? Our high-resolution quality graphics has taken our software has uplifted user experience to the max.
Our Achievement Trail Is


Growing!
100+
IT Solution
Delivered
How our
Process go through
01
Ideate after Proper Research
Research is our professional point of proper work execution until date and so we ideate the design after market research.
02
Project Scope Understanding
Moving on, the scope, end user, and end result are well grasped by the client prior to walking into our creativity zone.
03
Choose the Best Design Stack
From optimized images, videos, and more, the best design concepts are used to deliver excellence on all the pages of the Website/App/Tool.
04
Cross-Platform Design Experience
Our strategic video conferencing development process elevates the business to perform digitally, across platforms worldwide.
05
User Experience Evaluation
User experiences are a reflection of how much your end user can connect with your website or mobile app. We make sure that this is done well.
06
Test Phase
Once the QA team has done the check, the deployment is executed with care across various platforms seamlessly.
07
Support, Maintain & Optimize
The complete technical support and software maintenance assistance will be furnished by our team during our guidance phase.
Testimonials
Happy Customer Stories
Fruitful Work Process mean Great Experiences and lasting Client Relationships
I have had a great experience working with Evalogical. Fantastic team, Fast responsive, and a pleasure to work with.
We have developed a great partnership with Team Evalogical and their dedication to our Application proves the commitment and quality towards any work.
Gion Bruins
Marketing Head - Mercian Hockey.
USA
We just wanted to share a quick note and let you know that you guys did a really good job and it was amazing working with you guys. Wish you all good luck.
Varun Saju
Founder
Canada
I enjoyed working together with the EvaLogical Team and they helped out with short-notice product development and ColdFusion.
Tim smolders
CEO, Chiliconcode.
Netherlands
We are extremely happy with our working relationship with Evalogical and look forward to engaging them on future projects.
Thomas Chacko
Division Manager at Fahad Al Bahar Sons Trading Co.
Kuwait
I appreciate the attention to detail and creative approach of Evalogical that brings our Product to live with great quality. Good Work Guys!
Albert bausch
Founder
Netherlands
We Simplify Your IT Software Queries
Frequently Asked Questions
This is a sophisticated technology whereby the company and team members can hold effective video conferencing at any time of the day and on the go. The entire control of the software will be centralized and the integration will be done seamlessly.
At Evalogical
, you will have the comfort of
using a variety of video integration services
like One-to-One conferencing, Group conferences, Interactive broadcasting shows, quick Screen sharing process, real time messaging and high resolution visuals. Plus, the entire software is updated regularly and protected.
If you want to know how to choose the perfect type of video conferencing integration, it is best to get in touch with our software integration expert at Evalogical. We conduct a detailed study of your requirements, the industry and the team requirements. This will help us finalize on what type of product you will need.
Yes of course, we do take a lot of care to make sure that
client satisfaction reaches the top level of expectations.
Therefore, we make sure to customize the services, whether it is
web development
, video conferencing, design and quality testing as needed.